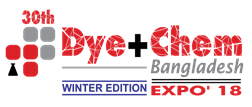 An exclusive & Only International exhibition of Bangladesh on all kinds of dyes and fine & specialty chemicals. The One and only Int'l Dyes, fine & Specialty Chemicals Expo for Bangladesh.
Personal Information
In order to process your registration, we request you to provide the following information.
Note: all fields marked with asterisks (*) are mandatory.